This is not your typical day at work but then again, no day ever is at Klook! If you've been following us for a while, you know Klook Live! is our in-app livestreaming feature. We developed it last year when we couldn't connect with our customers in the good old-fashioned way (aka face to face) and we packed it with all the best features: ability to redeem promo codes and flash sales while watching the livestream, interactive polls, super cute reaction emojis.
But what you may not know is that in some markets, it's our very own Klookers in front and behind the camera! They channel their inner KOLs as hosts, producers and creative directors who put together each episode in-house. 
Wonder how they make the magic happen? Well, you're in luck! Rozann Phua, Community Lead, invited us backstage to see how the Night of Wild Deals livestream came together in Singapore. 
It all starts with a plan… or a crazy idea 
Inspiration for a Klook Live! can come from many sources: seasonal events, a trending topic, or even a random idea that pops up in our heads. For the Night of Wild Deals, it all started with a conversation with a Klook merchant — the famous Singapore Night Safari. When it turned out they were keen to have a livestream collab, the team at Klook jumped at the idea. They set to work brainstorming and formulating the plan. 
Photo courtesy of Night Safari
"In the planning stage, we work concurrently on two main objectives," says Rozann. "We always try to get the best deals and flash sales for our viewers. At the same time, it's really about amplifying what's most unique about the merchant, and by extension creating content worth tuning in for. We try to make it as interactive and fun as possible."
"For me, producing a Klook Live! is a great chance to build relationships with merchants in a role that is not traditionally merchant-facing. They see that there are so many ways you can work with Klook. And they trust us and our crazy ideas!"
Prebuzz: A collab with our guests and fans
Filming for the livestream kicked off a couple of weeks before the night itself. The team shot a pre-recorded segment that could be used for promoting the event and later screened during the live. This time, the pre-recording was extra special. Rozann and the team got to meet a Night Safari zookeeper and ask burning questions gathered from the Klook staff and fans!
"One of the best parts of the job is meeting guests from all walks of life and co-creating content with them. Thanks to our livestreams, I've had my fortune told by a Fengshui Master and I can now also describe what a hedgehog feels like!"
Meeting Night Safari zookeeper! 
Does it stress Rozann out to be in front of the camera? "The adrenaline usually kicks in to balance out the stress", she says. "You can plan things down to the smallest detail, but when we're live, you have to play off the reaction of your co-host, guests and the audience You don't know what to expect: what they're going to ask, how they're going to respond to today's program. Every episode is a learning experience for me. It shows what works or doesn't work, and the beauty of bouncing off the people or situation."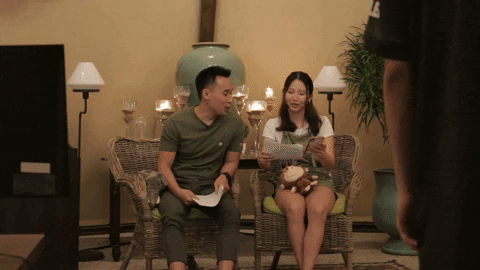 Practice makes perfect: they're killing it!
Fun fact: if you're thinking about joining our Singapore team... you may have your 5 minutes of fame as a Klook KOL too! "We try to rotate between a few team members. And if we feel like someone in the office has star potential, we just invite them to give it a go! "Candidates" can come from any department, from Finance to Business Development. It really shows how our team is always ready to solve a new problem and try new things, whether it's within their job scope or not."
The final scramble 
All hands on deck: it's a real team effort to produce a livestream people will love
They may look effortless on the surface but there is a lot of production that goes into Klook livestreams. What will the countdown look like? When will this flash deal pop up on the screen?  What should this poll say? 
In the final days leading up to the livestream, our in-house creative team edits the pre-recorded videos and designs the visuals. In parallel, the production team finalizes the script and rehearses the flow to get the timings and flow just right. 
The big night! 
"For the livestream itself, our merchant was kind enough to agree to our request of having life interactions with the animals on camera. We invited animal presenters to bring a couple of exotic animals on the show and share some fun facts about them. We also took live questions and comments from the audience. The highlight was definitely when we got to interact with and touch animals like the owl, hedgehog and python. " 
Just your average reptile-touching day at work
To make things even more interactive, the team prepared some trivia questions. Let's see if you can answer these ones: 

Do you know where we can find the longest species of python? 
(Singapore! Reticulated python can grow to lengths of up to 12m and weigh up to 120kg)

What is the collective noun for owls? (e.g. Flock of birds)
(A Parliament of Owls!)

How fast can a hedgehog go?
(They can travel up to 3km/hour!)
Showtime!
It wasn't always so smooth
Phew, another successful livestream is over! How does the team even know how to put this all together with so much skill? The honest answer is: in the early days, they really didn't.
"When we started in 2020, Singapore was in lockdown and all the activities outside your home were not available so we started selling durian on the livestream. That was my first livestream ever! It was crazy because you're eating four different types of durian and you have to describe to people what they taste like. And I'm just like what's happening?? There's only so many times you can use the word 'creamy' before you bored them to tears," remembers Rozann with a laugh. 
Troubleshooting hard
"The truth is: we just dove in! What makes it less scary is that we do it together as a team. One team member tries to figure out a certain aspect and then they teach the rest how to do it. Everyone sort of just helps out wherever they can. Think Toy Story 3: as much as we dive in head first, at least there's someone holding your hand."
Ready to join this crazy ride?
Posted by Klook Careers